Track & Trace System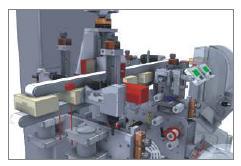 Track & Trace System
Product Description
Track & Trace System: Filled, closed cartons should be marked on two sides. The products are transported aligned to our unit by an upstream conveyor technique. The responsibility for the transfer to our system bears the customer.
We point out that the accuracy of the feed has an essential impact on the positioning accuracy of coding and labelling. At the labelling station the carton is then clamped by a top conveyors so that it is fixed. A coding by Bluhm XB4JET, either on the right hand and /or left hand in running direction. The content is then examined by one or two cameras. The data handling and evaluation is arranged by a pharmaceutical control software that is provided by the customer. When the coding is terminated, the labelling is arranged. The Tamper Evident labeler blows a label laterally on to the product respectively right hand and lefthand in running direction. The applicators of the labeler can be adjusted in height and diagonally to conveying direction so that the customer is able to select at which point of the product the label should stick. After the labelling,optional a light barrier can be installed that detects if the bale is at package. After this optional check, a two-sided gate plate follows that rubs the label by 90 Optionally there will follow a two-sided light barrier that controls the turning around.
When selecting the option kit Label check/rejection after testing the products that are not in order are rejected. In this, the boxes are pushed through air jets in a lockable collecting container. The products that are in order run straight ahead on the conveying technique and can be transferred to the customer's technique. The products that are not in order of the coding are also rejected.
Product Information:
Height : min: 10mm
max. : 120mm
Width( diagonally to conveying dir):
Min.: 65mm
Max. : 180mm (240mm with restrictions)
Length(in Conveying Direction):
Label Information:
Width: Min.: 20mm ; Max.: 40mm
Length : Min.: 20mm ; Max.: 40mm
Label roll Outside Diameter:Max.: 300mm
Label roll Core Diameter: 76.2mm
Label Gap: Min. : 3mm
Contact Us
B-95, Sector-8, Dwarka, New Delhi, Delhi, 110075, India
Phone :+918037265592